We are delighted to introduce Pie Factory Music's new CEO Zoë Carassik-Lord.
Zoë brings a wide knowledge base and experience in the Youth Arts sector and has been part of the amazing team at Pie for the last 6 years, as Programme Manager for Music & Creative Arts. It's an exciting time for Pie as we implement the next phase of our 2022-2025 Strategy Plan, with a particular focus on long-term premises and financial security. As we welcome Zoë, she would like to say a warm hello to our supporters and followers.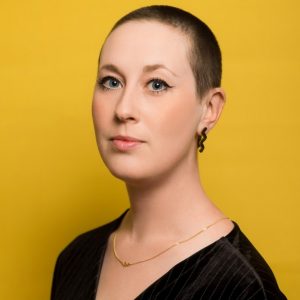 "My first few weeks as CEO of Pie Factory Music have been a whirlwind of sessions, good funding news, and putting exciting plans in place for our young people and our team. All confirmation that I officially have the best job in the world leading a charity making a real difference to young people's lives, and having fun whilst doing it.
I joined our Open Arms session with young refugees and asylum-seekers and we celebrated Eid together. It was so wonderful eating delicious Eritrean food cooked by the young people, and incredibly moving to see the young people listening with kindness to each other's stories of making Thanet their home, and all that comes with the enormous upheaval of displacement due to war, poverty and civil unrest. It was truly inspiring, and I feel so proud that the Open Arms team have created such a safe, welcoming and special place for these young people.
I also sat down with Steph – our previous Managing Director – and some of our Emerging Artists to reflect on her time leading Pie, and to imagine what my time at the helm will incorporate. It feels like Steph has passed the baton, and it was brilliant to do this being interviewed by some of our longest-standing participants as part of a recording session for our Slice of Pie Podcast.
We received wonderful news from Barnardo's that we have been successful in a funding bid to grow our pastoral care offer for young people in East Kent by offering more free counselling sessions with professional counsellors and psychotherapists, and funded one-to-ones with our talented Creative Practitioners and Youth Work team. I couldn't be prouder to lean into my new role with a strong focus on care and support for our young people.
Our core team will soon be growing with two new positions to be filled – I'm so excited to welcome new people into the Pie team, to take our Music & Creative Arts programme and our organisation's operations to their next level. We love to hear from people who want to contribute and advocate for our work; without their support and encouragement we wouldn't be where we are today – looking at a bright future for Pie and the young people and team members who make us the family we are.
Thank you for all your support."
Discover more about our work and how you can support us.