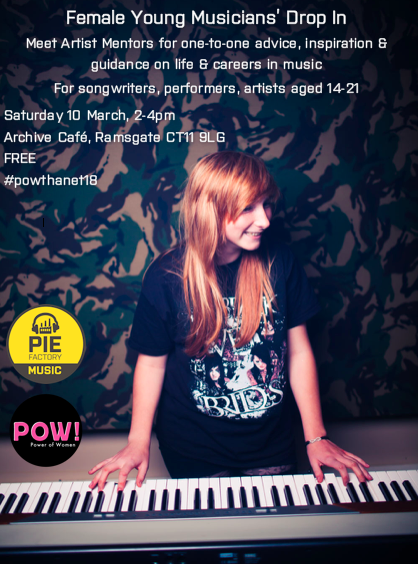 Are you a female between the ages of 14-21 interested in music? Want to find out more about making a career out of music? Needing a confidence boost for your live performance?
If you answered YES to any of these questions, come to Pie Factory Music's Female Young Musicians' Drop In to meet Artist Mentors for one-to-one advice, guidance and inspiration about life as a music professional, and network with like-minded young performers. Bring a song you'd like some feedback on, a questions about career pathways, or just come to meet some amazing people!
When: Saturday 10 March, 2-4pm
Where: Archive Café, Ramsgate CT11 9LG
How much: FREE
MEET THE MENTORS
Brigitte Aphrodite
Brigitte Aphrodite is a punk, feminist showgirl, and poetical music performance artist who has a loyal following due to her her approach to multidisciplinary art and social expression. Brigitte is most recently known for her critically acclaimed show – 'My Beautiful Black Dog' – a part gig, part theatre, modern day, punk musical exploring depression. The show sold out at the Edinburgh Fringe circuit, was featured on the BBC 10 O'Clock News and in the Guardian and Elle. Gathering big momentum in 2015/16 the show went on to tour the UK and sell out dates at the Southbank Centre. Wellcome Trust funding was awarded to the 'MBBD movement' and a workshop, based on the show, to do with the narrative and language we use around mental health was developed and delivered in schools around the country.
Victoria Barrow Williams & Jess du Preez
Victoria's biography is coming!
Jess is currently working as the Event Producer at Dreamland helping to deliver a wide host of events, making sure the best content is secured to ensure that we have a balanced programme for our wonderful audience! Previous to this she was the Interim General Manager at Harlow Playhouse looking after the Programming and artistic direction, having previously held the Commercial and Development Manager role in the building. At Harlow Jess managed to secure a partnership with BBC introducing whereby they hosted monthly events for local Essex talent.
Jade Williams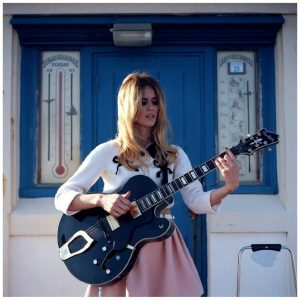 Jade Williams is a British independent pop singer, who currently performs under the stage name Whinnie Williams. She released her debut EP, Bad Girl, through Night Beach Records in October 2014. "Coming on like a Brigitte Bardot-meets Farrah Fawcett 60s temptress, her kitsch aesthetic is matched with lustrous, high-drama tracks that have got tastemakers like Noisey, Wonderland, The Line of Best Fit and Nylon in a spin." – m-magazine, 2018.

Beth Clayton
Beth Clayton is a freelance creative project management, marketing and production person with 12 years experience in the music industry. She currently works on musician Nick Cave's management team, looking after marketing and other things. She is also Head of Content and Strategy at Boom Shakalaka Productions – an audio and visual production company which makes radio, podcasts, videos and more. Beth has worked in the independent music sector at both record labels and distributors, and with both new and established artists, and she managed a small independent record label for several years. She left a full time career in the music industry in July 2013 to pursue broader roles in the creative sector, whilst continuing to work in music as a consultant. She has worked on all sorts of creative projects from theatre to albums to radio documentaries.
Daisy Kelly-Granger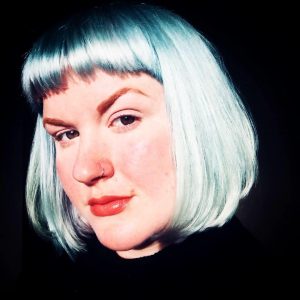 As a creative mentor and vocal coach Daisy uses her experience and knowledge in live and studio vocals and musicianship to empower and motivate the development of artists and singers at all levels, from complete beginners to touring professionals. For more info visit www.daisykellygranger.com and www.facebook.com/daisyvocals
Harriet Jordan-Wrench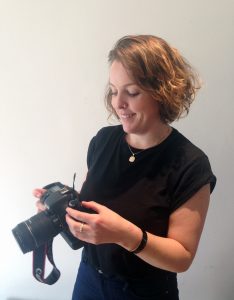 Harriet is a creative entrepreneur. She is the founder of online music platform Secret Sessions, an artist development platform that finds and develops new talent through video content and live shows. Her work has played a part in the careers of many global superstars such as Ed Sheeran, Jessie J, Bastille & Lumineers. Her video channels have amassed over 20m hits online and gained thousands of followers. Harriet knows how to spot talent and bring it to online audiences in a creative way, that holds integrity.
This event is part of POW! Thanet 2018 – a festival of arts and culture celebrating and exploring issues around feminism, women and girls. View more POW! Thanet events here >
For more information, contact Zoë Carassik-Lord on zoe@piefactorymusic.com or 01843 596777.