Music is coming back!
Saturday 29 May, 7pm
Live on YouTube | Instagram | Facebook
Hosted by Tom Thumb Theatre Margate
See, hear, experience Kent's next generation of music makers, all from the comfort of your own home. Shakedown post-lockdown with a night of new music. From the anti-establishment and protests roots of folk and punk, to the sweet sounds and hard-hitting lyrics of Indie and rapping wordsplay, Revival showcases multiple genres from multiple artists for pure escapism and revelry.
Watch two 15-minute sets performed by Mollie Clarke and Zico, followed by three 25 minute sets from Malpractice, Rats Nest, and Connor Beerling, as well as each act interviewed in between sets. Not only can you hear Kent's best and upcoming Emerging Artists perform, you'll hear them talk about their creative passion and what drives them to do what they do best – make music.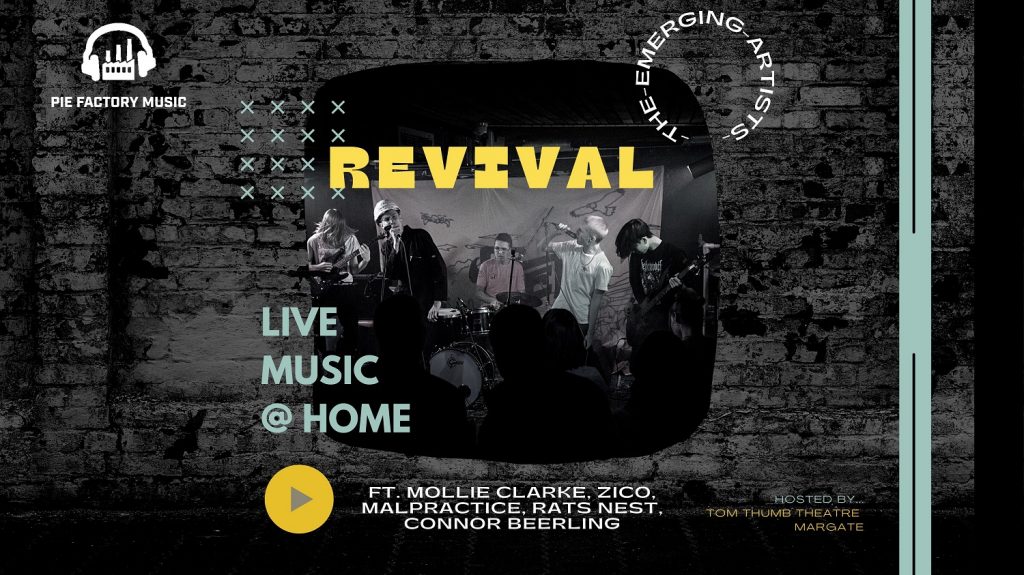 This event gives these incredible artists a platform to express their talent in their own way with the added bonus of being able to keep their performance content for their own use – something Pie is proud to facilitate. But most importantly, the Revival gig gives you the opportunity to enjoy a host of different types of music, wherever you are, safely, as we all get through these trying times. With Revival, music is finally coming back!
Thanks to our hosts Tom Thumb Theatre – an intimate music venue that packs a massive punch.
Emerging Artists is a year-long programme of career, musical and personal development for young musicians aged 16-25, funded in association with Youth Music.