In autumn 2020, we brought together a group of female and genderqueer 13–18-year-olds for a new programme, where we support their musical growth, as listeners and burgeoning musicians,
"Sirens" was born. Sirens are: Annabel, Betsy, Bunni, Demi, Ellie, Harmony, Katie, Laura and Zoe.
In a year where the world faced a global pandemic and living life online, Sirens have achieved extraordinary things, independently and together. This is their journey…
A love of music
Programme producer Rachel Connelly wanted the programme to be "a foundation music course for young people – they're already into listening to music, but I wanted to really get them into questioning what music is, listening to different types of music together, critiquing what they hear and developing their own musicianship as independent artists in a safe, open, supportive space".
Every week over the past year, they've come together at dedicated musical sessions.
Drawing on their shared passion for listening to music, the group started the programme by taking part in listening sessions, where they could hear and discover each other's tastes as well as being introduced to new musical genres, new artists, particularly female and genderqueer musicians. After an inspirational visit from Amy Redmond, Director of POW!, there was a listening session where songs all related to protest, inspired by the theme of that year's POW! Thanet Festival. From sound came thought-provoking conversations about feminism, what it means to be female and genderqueer in the music industry, in the past and now, and much more.
Performing live – online, at home!
In late 2020, Sirens were practising and preparing to perform for their first live gig – a collaboration with POW! entitled, 'Play at Home'. The pandemic halted all in-person opportunities to perform, but that didn't dissuade this passionate and energetic group, who rose to the occasion by performing live online.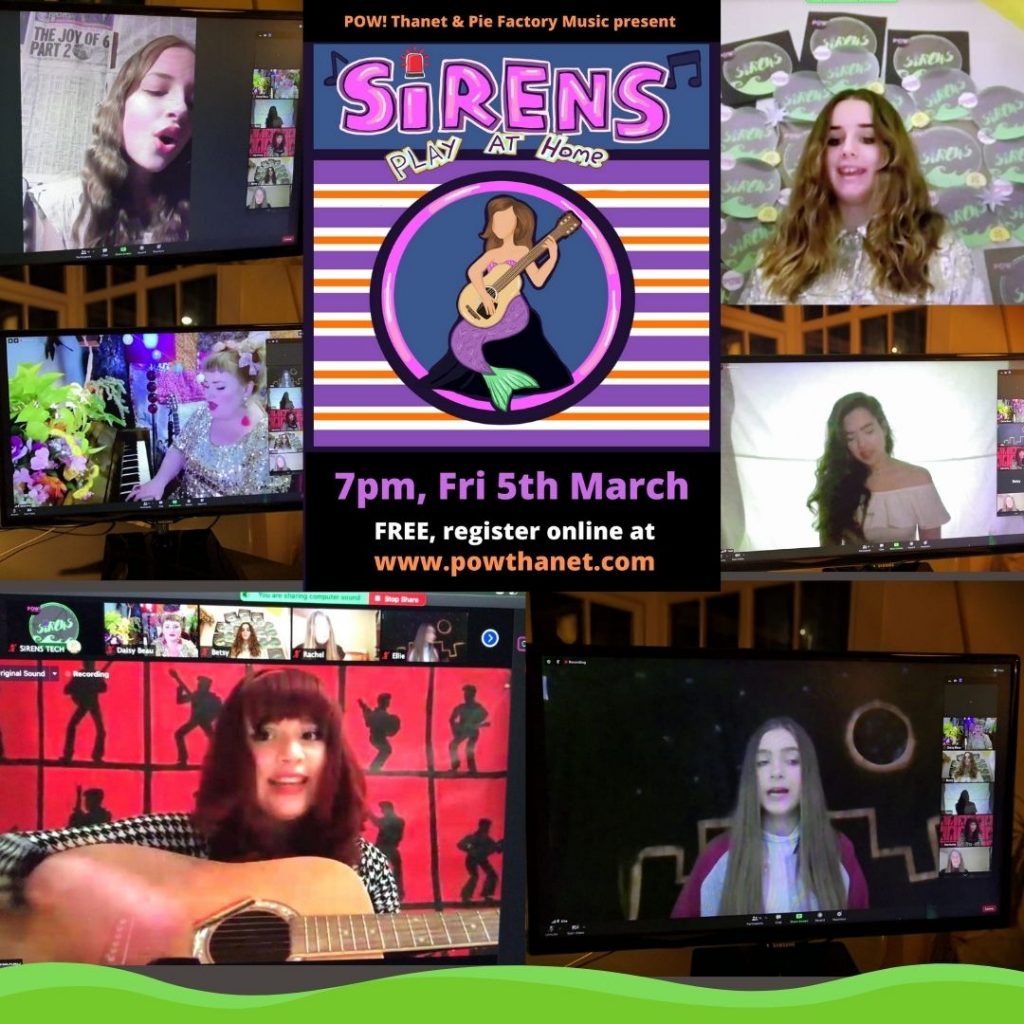 Supported by musician and vocal coach Daisy Beau, Sirens learnt how to prepare for a livestream gig, from singing to creating their own backgrounds and outfits. They, and POW!'s audience, had a blast as each member wowed with their individual performances and compering skills (watch the gig, below). So much confidence, skill and delight to play was evident and astonishing given they'd only been able to meet online so far.
Inspirational introductions
Throughout 2021, the group met inspirational local and London based female and genderqueer musicians and industry experts through a series of online conversations and workshops. They chatted to Carli Jefferson from Lunatraktors, Ray Predergast from Pink Suits, DJ Hannah Holland, Black Gold Buffalo, as well as Maxie Gedge from the PRS Foundation.
Songwriting skills
After a Klezmer workshop with cellist Francesca Ter-Berg, a summer song writing course followed, where Sirens worked for 8 weeks towards creating independent work, but also wrote a song together as a group for another gig, which this time would be in person.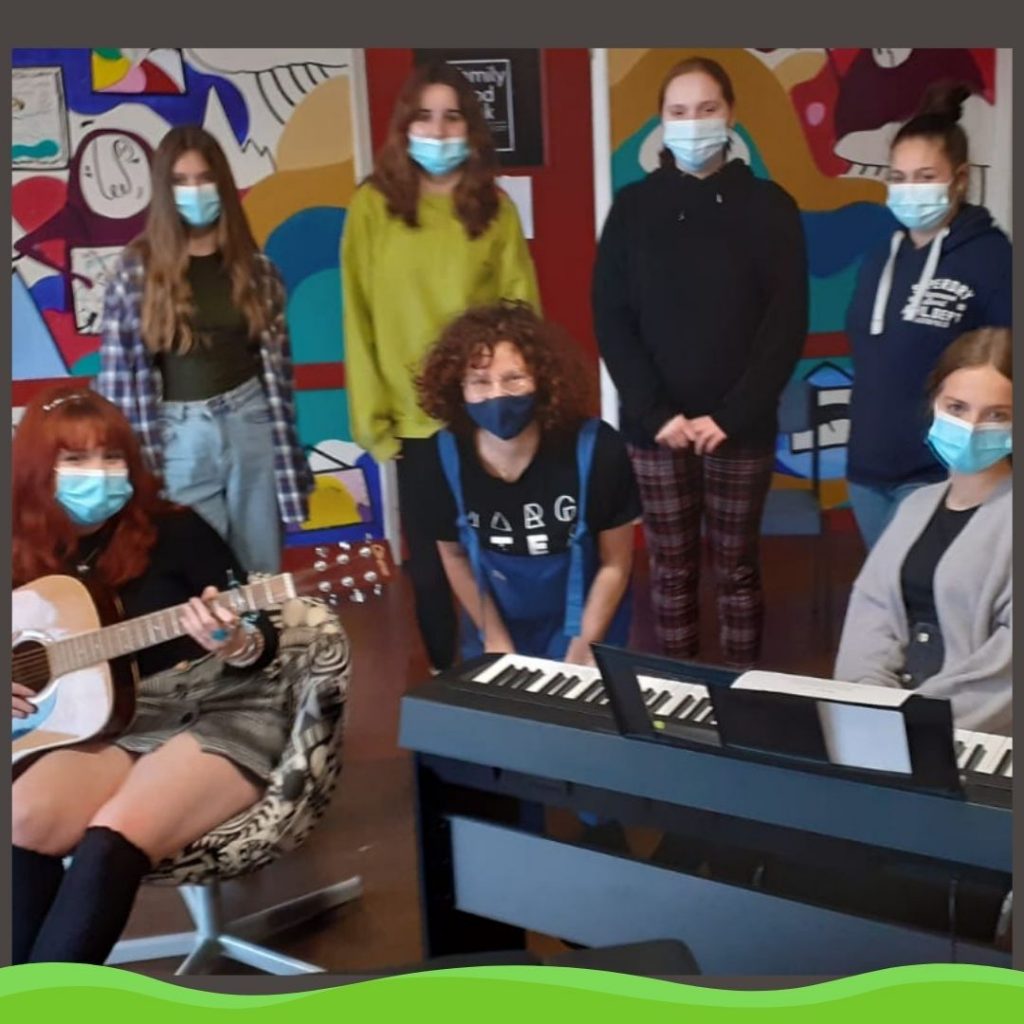 A real-life gig!
The Art 31 BounceBack festival took place on Saturday 26 June 2021 at the Gulbenkian in Canterbury. Harmony from Sirens had a chance to perform some of her own songs, plus the group showcased their brand-new track, which was sung, composed and produced collectively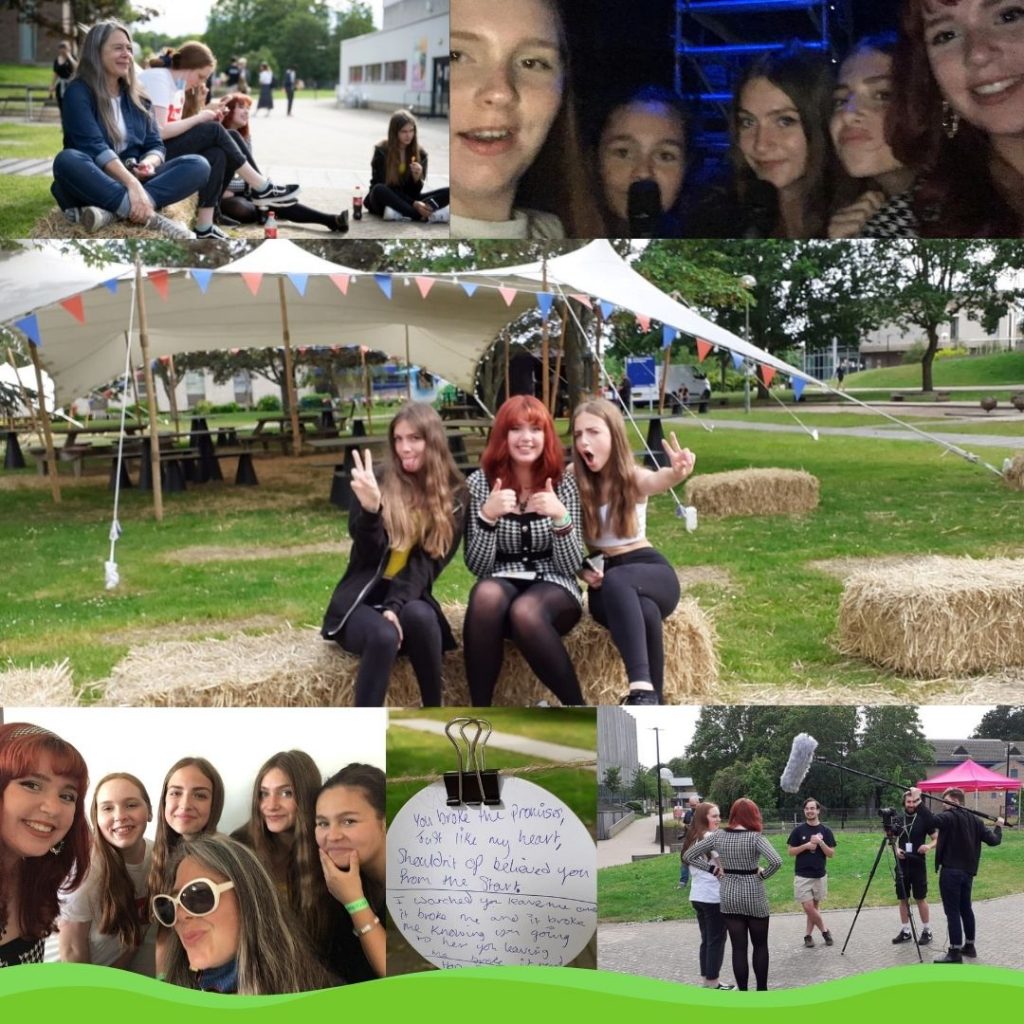 The event was programmed and planned by ART31 Generate, a group of young people from Kent aged 13-25 years. BounceBack was a digital festival, but 100 of the young creatives participating in the festival attended, giving Sirens networking opportunities with their peers.
"I have loved every second of the events that we have taken part in, which includes performing live on stage at the Gulbenkian Theatre in Canterbury. We were invited by ART31 to take part in their online festival. This is such a great thing, because I would have never have had the chance to perform the song that we wrote as a group to the whole world if they wanted to watch it, and I would never have had the chance to meet other inspiring groups."

Laura, Sirens member
Recording a song together
After the gig, the group have wasted no time in creating their next venture – recording their track, Chocolate Box Full of Swordfish, at Palm Bay Music (listen below). Working with Kimberly Anne – Gold selling writer and platinum-selling artist – they were guided in studio recording, editing and production, gaining on-hand experience of what it's like to record as a musician, in a world-renowned local studio.
"To be in an actual studio with Kim has been amazing. She has shared skills with us that we can use in the future and is very positive to us about our capabilities and how we can develop and use them"

Laura, Sirens member
Summer solo gigs
During summer 2021, Harmony performed for our very own ACT social action group's Family Fun Day, and Zoe was sponsored by Morag and Chris at Rosslyn Court in Margate, to take part in a workshop with vocal coach Hughie Gavin, leading to performing a solo gig.
Creating soundwaves
As the year-long programme itself ends, Sirens continues – the group will be leading Pie's weekly drop-in studio sessions in the autumn, working with our team member Matt to inspire and guide fellow young people and watch this space for more releases from these amazing upcoming artists.
"The group have been incredible. I really wanted to create a diverse programme that offered different ways for the group to engage with their musicality. With so many challenges presented by the pandemic, it's even more staggering what they have achieved, individually and together. I'm so proud of all of them, for their passion, commitment, how they've grown as musicians and in confidence. I'm so excited to see them continue on their musical journey and to what's coming next."

Rachel Connelly, Programme Lead
"We know that females and non-binary people are significantly underrepresented in the music industry, and we wanted to carve out a space at Pie Factory Music for female and non-binary young people to create, develop and be empowered in their own musical journeys. What Sirens as a group has achieved over the last year is truly special. We're excited to see what the first cohort of our Sirens go on to do next, and we're excited to open up the group to a new community of Sirens in autumn 2021!"

Zoe, Programme Manager at Pie