Girls Programme
Pie's Girls Programme provided a safe space for girls and gender non-conforming 13 – 19-year-olds to support their musical growth, as listeners and burgeoning musicians.
The programme ran from autumn 2020 to the end of 2022, with two talented groups taking part – the self-named 'Sirens' and 'The Feminist Complex'.
It's a foundation music course for young people to question what music is, listen to different types of music together, critique what they hear and develop their own musicianship as independent artists in an open, supportive space.
Sirens' Journey
Sirens are Annabel, Betsy, Bunni, Demi, Ellie, Harmony, Katie, Laura and Zoe.
In a year when the world faced a global pandemic and lived life online, Sirens achieved extraordinary things, independently and together. They connected with one another each week both online and in person (when possible) during the height of the COVID19 pandemic.
Drawing on their shared passion for listening to music, the group started the programme by taking part in listening sessions, where they could hear and discover each other's tastes as well as being introduced to new musical genres, new artists, particularly female and genderqueer musicians, including an inspirational visit from Amy Redmond, Director of POW! Thanet. From sound came thought-provoking conversations about feminism, what it means to be female and genderqueer in the music industry, in the past and now, and much more.
Sirens faced challenges of social restrictions meaning gigs had to be online, but they rose to the challenge thanks to the support of musician and vocal coach Daisy Beau. They learnt how to prepare for a live stream gig, from singing to creating their own backgrounds and outfits. Despite the challenges, online streaming meant that people from all around the world could see them perform – taking their talents to the other side of the world – as far as Australia! The 'Play at home' live online gig featured each of the Sirens artists and special guest Daisy Beau (watch the gig below). So much confidence, skill and delight to play was evident and so impressive given they'd only been able to meet online so far.
Throughout 2021, the group met inspirational local and London-based female and genderqueer musicians and industry experts through a series of online conversations and workshops. They chatted to Carli Jefferson from Lunatraktors, Ray Predergast from Pink Suits, DJ Hannah Holland, Black Gold Buffalo, as well as Maxie Gedge from the PRS Foundation.
With restrictions easing, the group were given the opportunity to take part in an 8-week songwriting course with Francesca Ter-Berg to create a song together as a group for another gig, this time in person. Sirens performed "Chocolate Box Full of Swordfish" at The Gulbenkian Art 31 BounceBack festival on 26 June 2021 and recorded their song with Kimberley Ann at Palm Bay Music (watch the gig below).
The event was programmed and planned by ART31 Generate, a group of young people from Kent aged 13-25 years. BounceBack was a digital festival, but 100 of the young creatives participating in the festival attended, giving Sirens networking opportunities with their peers.
Sirens continued to perform at solo gigs throughout summer 2021 – Harmony performed for our very own ACT social action group's Family Fun Day, and Zoe was sponsored by Morag and Chris at Rosslyn Court in Margate, to take part in a workshop with vocal coach Hughie Gavin, leading to performing a solo gig.
"I have loved every second of it. I would have never have had the chance to perform the song that we wrote as a group to the whole world if they wanted to watch it, and I would never have had the chance to meet other inspiring groups. To be in an actual studio with Kim has been amazing. She has shared skills with us that we can use in the future and is very positive to us about our capabilities and how we can develop and use them"
Laura, Sirens member
Watch Sirens Journey
The Feminist Complex's Journey
The Feminist Complex are Katie, Ruby, Lilli, Amelia, Maddi, Frankie, Grace, Harmony, Demi and Rachel.
In 2022, the brilliant The Feminist Complex group made music heavily inspired by long conversations they had about feminism and influences from the music industry's impact on the world for women and gender non-conforming people.
For this year, the programme was all about the outside world, exploring what there is for young musicians outside the walls of Pie Factory Music – giving these young people a chance to engage with other musicians and industry professionals, creating foundations in networking for future work in the industry through lived experience.
With the easing of lockdown restrictions, trips to offsite locations and gigs were vital. The young people got to visit music venues – essential for any musician – to choose where they wanted to perform and to learn about what a venue needs for an event. The group visited Tom Thumb Theatre and Elsewhere in Margate, Ramsgate Music Hall and the Gulbenkian Canterbury.
The group were introduced to Moa Papillon who is a singer and instrumentalist playing West African kora, mandolin, bansitar and guitar. Moa led a series of sessions and guided the young people, working towards a performance as part of POW! festival in March 2022 at Ramsgate Music Hall.
The event was full of international song, dance and food from West Africa, Kashmir, Canada, UK, USA and Sweden. The Feminist Complex sang a Swedish International Women's Day protest song called "Raise Our Voices" as a group with solo performances from Harmony, spoken word from Demi and captivating dancing from Maddie. The Feminist Complex showcased their growing skills in different instruments, music genres, songwriting skills and more.
An original track by Grace created from field recordings and transposition of music from a Japanese anime game was played at interludes. The group performed alongside supporting acts Ellie Ward (spoken word), Bianca Wilson (banjo), Ruby Tipple (guitar) – connecting with fellow artists to create a night to remember.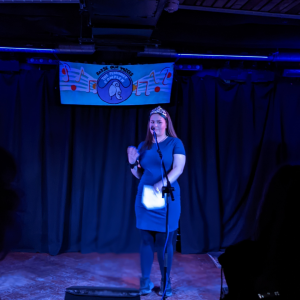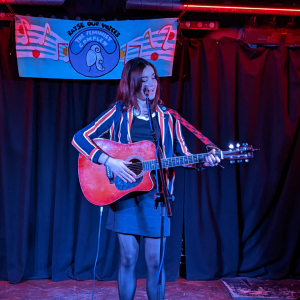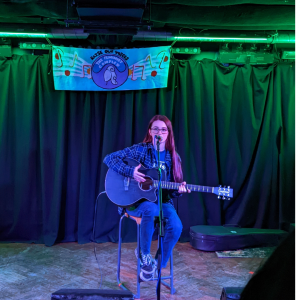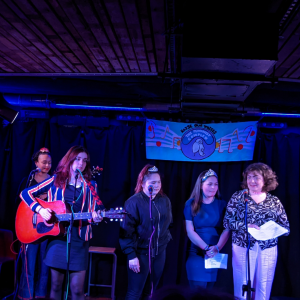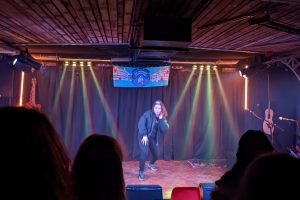 Small residencies were organised for some of the group: Harmony was given the chance to take part in a series of performances at Screaming Alley events – 'Let's Go Outside'- for the re-opening of Ellington Park in Ramsgate, Sadie Hennessey's 'Hutstock' in Whitstable and Daisy Beau's open mic night, 101 Social Club, Margate (which is ongoing), performing her own songs to much acclaim by local audiences. Demi worked with Screaming Alley and performed her spoken word pieces at Churchill's in Ramsgate, Elsewhere Margate for 'Babe Slam' and at the 101 Social Club Open Mic night.
Grace has continued to grow in skills and confidence, with participation in the group helping them to tackle their social anxiety which made going out / being in large groups challenging. Since joining The Feminist Complex, they have said their sociability has improved and is keen to share their experience to help others. Read about Grace's individual journey.
Grace continues to shine at an ongoing live sound engineering residency at Rosslyn Court in Margate, within the live events programme, learning how to work a sound desk and conduct sound checks. Tom Thumb Theatre have also offered Grace a residency – they are becoming in demand!
The two groups have worked so hard to achieve such inspiring outcomes during these two years and we are so proud of them all. They had important conversations, created beautiful and powerful music that has shown their talent to the world, and they've grown together and individually as artists. We look forward to seeing what they achieve in the future.
Pie's Programme Manager Zoë says
"We know that women and non-binary people are significantly underrepresented in the music industry, and we wanted to carve out a space at Pie Factory Music for female and non-binary young people to create, develop and be empowered in their own musical journeys. Over the past two years we've seen the Girls Programme participants become independent musicians and creative practitioners and we're so proud of each and every person we've had the pleasure to support."
The Girls Programme is possible thanks to the generous funding from Youth Music.