Thanet Emerging Artists Programme update: first masterclass and Young Producers gig!
Posted: 16th October 2018
We've got some exciting updates to share from our Thanet Emerging Artists Programme!
Music Industry Masterclass: starting up an independent record label, and releasing your own music
On Thursday 15 November, 6-8pm we are holding a FREE masterclass for young people aged 11-25 at Elsewhere, Margate. We're really excited that Michael McClatchey (Moshi Moshi Records) and Sammy Clarke (Art's Cool) will be sharing their journeys, experience and expertise in setting up independent music projects, and self-releasing music.
No need to book, just turn up from 5.30pm to hear from our industry experts, and gain advice, guidance and inspiration.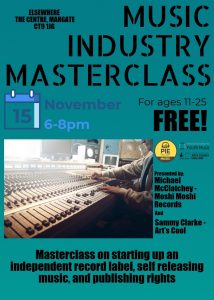 Elsewhere Presents: Thanet's Finest
On Saturday 17 November, our Young Producers will be putting on their first ever gig at Elsewhere in Margate with a line up of Thanet's Finest young talent and emerging artists!
Click here to join the Facebook event to find out more, and scroll down to listen to a playlist of tracks by the artists performing on the night…
Doors open at 7pm. Tickets on the door are £3 for under 18s / £5 for over 18s (ID essential).