Let's Dance
Posted: 6th July 2016
Thanks to funding from Early Help and Preventative Services we are launching a creative project called Let's Dance (with a respectful nod to David Bowie). The idea of this programme is to offer a number of opportunities to support young people and improve their emotional wellbeing and confidence whilst at the same time offering training to the wider community to ensure that the impact is long-lasting. We know from experience and research based evidence that taking part in creative sessions such as music and dance has a enormous positive impact on wellbeing and mental health so please make the most of this free provision over the next year and spread the word. The project has four strands: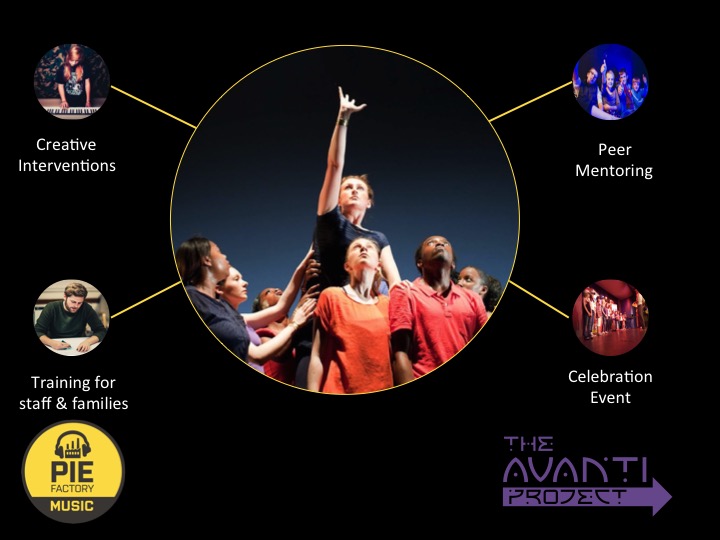 Let's Dance is a year-long project designed to support vulnerable young people by offering creative interventions in dance and music, peer mentoring, training and a celebration event to showcase their achievements:
Creative Interventions
Throughout the year we'll be offering free 1:1 and small group sessions to the young people of Thanet who may face barriers to participating in our wider programme such as low confidence and anxiety. We can work with young people from the age of 8-19 years (up to 25 years if they have a disability), offering sessions in dance and music. There is also the opportunity for young people to achieve an Arts Award whilst taking part in these creative interventions.
If you have a child or young person who would really benefit from some 1:1 or small group work please get in touch and book in some free sessions. We will try to be as flexible as possible around times and dates so that the sessions work best for your family.
We'll also be running 5-week small group sessions using movement & dance to explore wellbeing starting in January. Please contact us for more details.
Training
We are offering free training for families and professionals working with young people in Thanet. We'll be looking at how creativity can support young people's development and some strategies for improving emotional wellbeing. We will host two identical training days:
Tuesday 27th September, 10-4pm @ Pie Factory Music
Tuesday 18th October, 10-4pm @ Turner Contemporary
Get in touch today if you're interested in this free training opportunity.
Peer Mentors
We'll be training and facilitating a group of young people to support the more vulnerable young people; training will include Restorative Approaches and Mental Health First Aid. Once trained, peer mentors will be called upon to to offer support to young people who may be struggling e.g. accompanying a young person to a open session for the first time or meeting at school during a lunch time to see how they are doing. This opportunity is a great way to improve skills, a good way to complete volunteer hours and a great addition to a CV. Once trained, we'd be happy to supply a reference for any young people who successfully complete this course. Please get in touch if you are interested in becoming a Pie Factory Music Peer Mentor.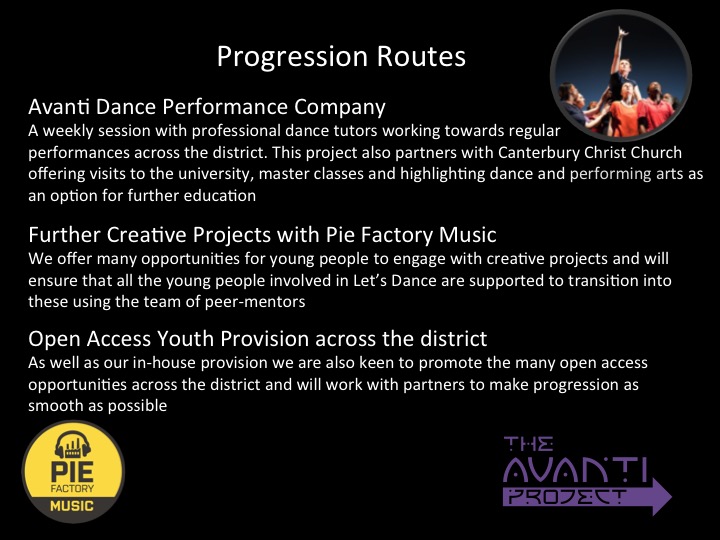 Our goal is that once we have worked with young people in a more intensive way, they can build the confidence to a level where they can then attend our open programme above, with the support of our peer mentor group. We have an exciting ongoing programme of creative sessions on offer for young people including our very own Dance Performance Company.
So Thanet… Let's Dance