2021 – a year we rode the soundwaves
Posted: 16th December 2021
2021 – what can we say…
We came up for air after holding our breaths and power-paddling through the murky depths of 2020, when momentarily the live music stopped.
We clung on to our raft, made up of strength, tenacity and experience, clinging on through whirlpools, tidal waves and strong currents, that had us – frankly – with our noses just above the water. But land ahoy! We continued to hope, and our young people continued to thrive through it all – despite it all. And we're here, stronger than before.
The music never died for us, we just had to find a new way to play, to retune, to equalise.
There have been some incredible moments of light, like bright yellow buoys bobbing on top of the dark water…
A.C.T! – our own RNLI of youth-led community social action, scoped the coast for worthy causes to raise up and extend a helping hand like a buoyancy aid.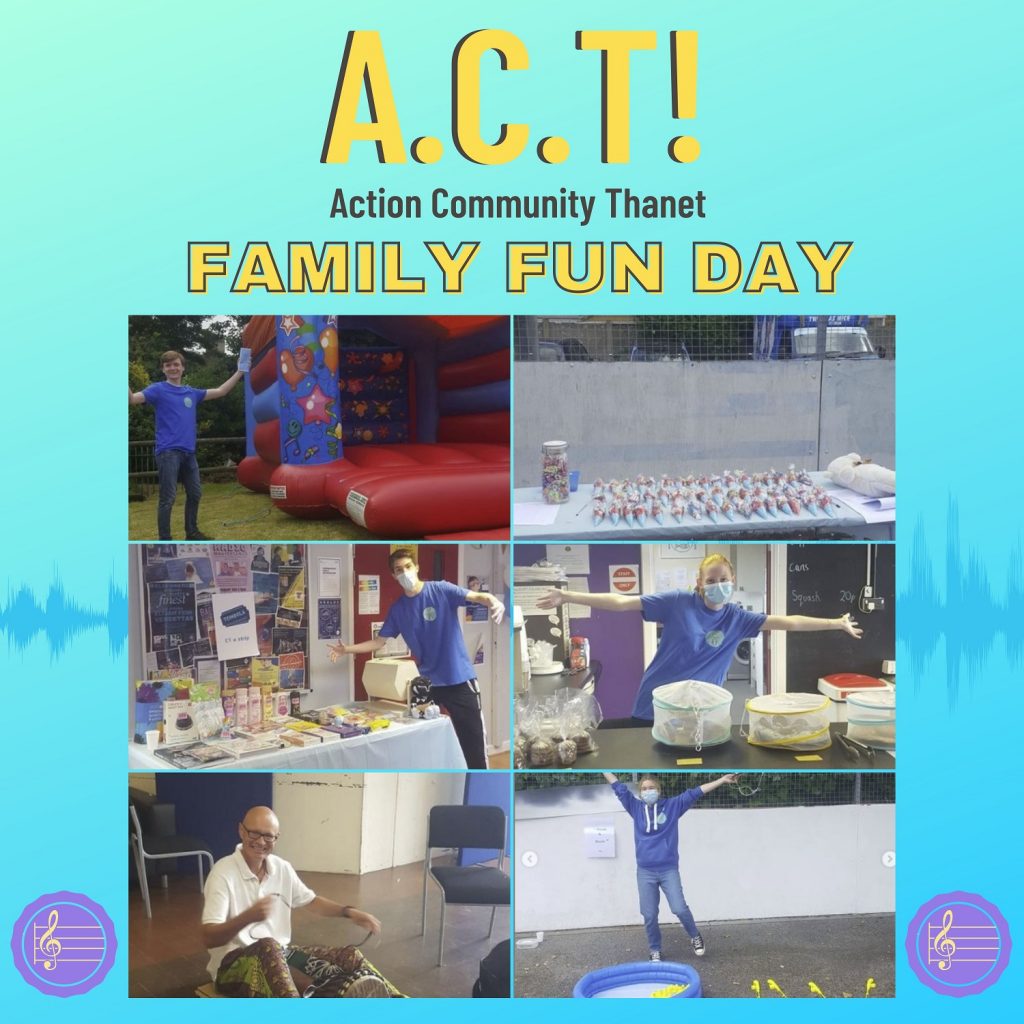 They delivered care packages to young people at home, held a Big Sleep Out for Thanet Shelter and an in-person summer fun day for local families raising £300 for the MPS Society, and have just made and delivered Christmas cards to seniors in care homes 💛🤗

Find them on Facebook and Instagram to hear about their future projects.
Sirens – our 2021 girls programme group – sang out a chorus of hope.
Lighting up our screens at the opening of the POW! Thanet arts festival in March, they proved that you can create a gig at home, that the music keeps going and musical talent keeps growing, with expert help from musician Daisy Beau.
There was no stopping their creativity as they worked with songwriter Francesca Ter-Berg to write their own song together – Chocolate Box Full of Swordfish – recorded it at Palm Bay Music then performed it live at The Art 31 BounceBack festival at the Gulbenkian in June. Watch their journey.
Our Emerging Artists' channelled their energy and talent into a musical shakedown.
They refused to let restrictions restrict their opportunity to perform by showcasing a live-streamed post-lockdown gig Revival from Margate's Tom Thumb Theatre in May. The shifting sands of the pandemic and mentoring by music industry professionals became a catalyst for creating a platform for fellow young musicians, from which their new Wantsum Music? record label emerged. The channel into the sound of young Kent is making waves and making music in 2022 – follow @wantsum_music on Instagram to hear and see more.
A Summer of Fun and Opportunity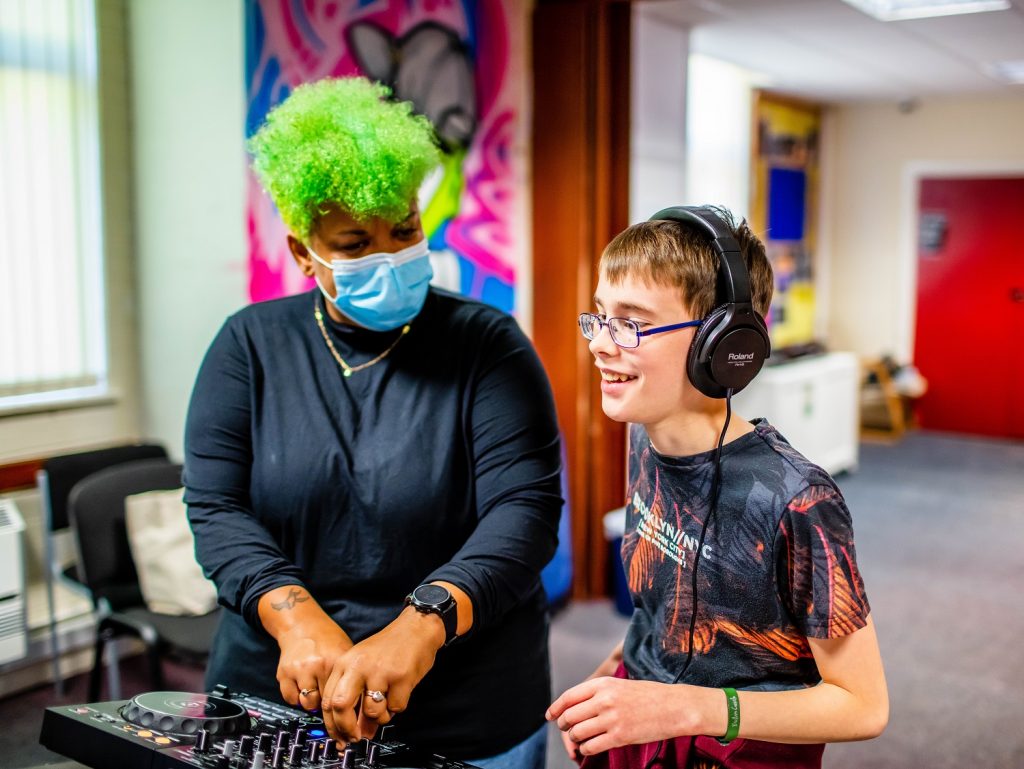 We celebrated the return of in-person sessions and events with DJ'ing, looping, animation and graffiti workshops produced with our partners Arts Education Exchange, cinema trips, youth centre activities and a trip away for some to the Arete outdoor education centre to throw themselves into daring challenges and the revivingly cold water of the Welsh coast.
The journey young people go on can be unexpected and amazing. Coming to Pie through a love of music, Bunni then joined our Bike Project, led by our team member Luis, to learn bike maintenance, gaining a qualification that has since led to them becoming a bike mechanic at a local sports shop. Watch what they have to say about the experience.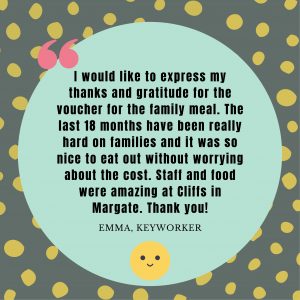 As we saw families get hit by the pandemic tidal waves, we created our own lifeboat of support.
In the summer, we gave over 270 food and uniform vouchers for those with a low income in the Thanet and Dover districts, so that they could enjoy eating out and stave off rising costs ahead of the new school year.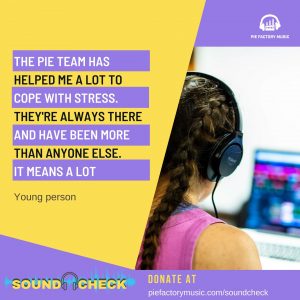 Soundcheck, our flagship pastoral project that offers free professional counselling for young people, has provided an anchor for those struggling with their mental health.
So far, we've helped 63 11 – 18 years in East Kent access support and creative sessions to soothe their minds. All thanks to the generous support you gave our Crowdfunding campaign last year.
You rose again this winter to raise a further £1500 to fund support for an additional 30 young people, and provide a lifejacket for them as the pandemic continues to rage, referral numbers rise even higher and we take on our duty to try and plug the gap locally. Thank you!
We have the most incredible and skilled counsellors on board who are not only able to support the many young people who are recovering from an incredibly traumatic couple of years but also have the skills and experience to help young people navigate racial trauma, issues of identity and sexuality.
We're continuing to put all donations towards Soundcheck throughout December. If you can, details of how to support are here >
We continued to learn and to grow, to think about us, our team, and the culture we build.
Everyday Racism brought us together to learn, and challenge our societal and subconscious biases. We called on Mermaids to help us be, talk and act more inclusive and welcoming of members of the LGBTQ+ community. This work continues as we take our role in fighting for social justice and equality seriously.
Thank you
From all of us at Pie Factory Music, a huge THANK YOU.
Thanks for your continued support and encouragement. We couldn't do what we do without the support of everyone who champions us – our funders, followers, partners and collaborators. You help us to be more and do more and for that we thank you. We're excited for 2022, our 20th anniversary year, when we know there will be more rays of light and we will continue to celebrate and champion our young people.
The music keeps on playing…