Advice for community organisations in the face of COVID-19
Posted: 18th March 2020
If you've ever been involved in managing a charity, organisation or business you will inevitably have had to write a 'Business Continuity Plan', probably with a slight sigh in the back of your mind as you try to imagine and plan for very rare and unlikely events that could impact your work on a mass scale.
Enter Coronavirus.
Faced with a global crisis on our hands we are now plunged into implementing new systems, creativity and resilience like never before as we seek to ensure that our organisations can continue to meet the need that they were set up for in the first place.
We (Pie Factory Music) are a medium sized charity in Thanet, Kent and we have been working tirelessly over the last few days to find creative and free (or very cheap) solutions to work in a way like never before. To enable our team of around 20 to function effectively, feel supported at a time of incredible uncertainty and most of all to meet the needs of the hundreds of young people we support on a weekly basis in the face of increasing social-distance guidance.
I keep reminding young people, friends, colleagues and other organisations that we're all in this together and have been trying to think of things that we can do to share resources and knowledge as people scrabble around to plug the gaps and fill the holes that inevitably open up under these circumstances.
With that in mind, I thought it might be helpful to start to compile a list of resources, digital tools, knowledge and experience, and share this publically. I'll try to add to this regularly as I think of useful things to share. I hope it helps…
Digital tools for remote working
Zoom is a free online conference call tool that can be used for group phone or video calls and is very useful when working remotely. There is a restriction of 40minutes per call on the free version however you can simply dial in again if you need to carry on the call. You can screen share, share documents, and type messages alongside the call. You can also record every call which is very good practice if you are using this to support a young person or someone who is vulnerable
Ideas of how to use this would be: team catch-ups, online meetings, targeted sessions with young people
Slack is a free remote work tool. A digital space that helps in communication among teammates, allow them to share ideas and share comments in real time so everything moves swiftly. You can have all of your team communication in one place wherever you go with a remote collaboration tool. When the teams are remote, they can use Slack channels for instant messaging and collaboration.
Ideas of how to use this tool: collaborative projects such as planning online content or discussion forums for professionals
A free online facility for storing, sharing and accessing documents from any device. It also allows remote collaboration. The functionality of Google drive seems to serve internal purposes better than external so I'd suggest this as a facility within an organisation.
Ideas of how to use this tool: Cloud storage for important documents, sharing a draft document that you want feedback on, logs and working documents that multiple people can add to.
Communication Tools
If you're increasing your social media presence then you may be concerned about the time that might take. Hootsuite is a free online tool that allows you to schedule up to 30 posts in advance – this saves a lot of time as it means that you can schedule a range of posts on different platforms in advance. It's worth bearing in mind that in the current climate as news and information is changing daily try to avoid scheduling posts that will be out of date by the time they are published. Stick to generic posts for scheduling that do not run this risk.
Ideas of how to use this tool: Schedule a daily thought for the day, challenge or question.
This is an online bulk text service where you can save contacts names and numbers, group them by category and schedule texts. This is great from a safeguarding point of view as you set it up through an email address rather than a phone number and each text and reply is saved for reference. This service isn't free but is only around 5p per text (you have to bulk buy a minimum of 250)
Ideas of how to use this tool: For letting lots of people know information quickly, for separating communication for different groups of people
Ideas for online activities with young people
Generating your own content on Social media engagement – When we need to distance ourselves from others physically, social media is the go-to place for people to find connection and information. At a time like this, social media provides the perfect opportunity to create online community. When it comes to engaging young people, setting up questions and challenges is a great way to encourage them engage. Beyond this there is no limit to the amount of tutorials and 'live' events you can host. Clearly, each platform has a slightly different pitch and appeals to different age groups for instance you wont find many under the age of 18 engaging on Facebook but young people can't live without Instagram. (More about that here)
Ideas for using social media to engage with young people: Asking questions and taking questions from followers on Instagram, TikTok Challenges, offering young people a space to talk (see safeguarding note), hosting live performances and celebrating and amplifying the good news stories.
Just remember to check anything that you are signposting people to and think about how to engage with people beyond just sharing a link. You could suggest on a particular day that everyone engages in a 'lunch time doodle' and then ask people to send them in for example or chat about how they found the process.
Safeguarding
Safeguarding simply means keeping people safe.
This is something that's always in the back of my mind due to the type of work that we do but it's even more important to consider safeguarding practices when:
1. There are increased numbers of vulnerable people in our community due to ill health, social isolation, financial pressure and increased anxiety.
2. There has been a major disruption to the way we usually work and therefore we're having to find new ways to work, exploring new systems and tools that are new to us
3. Decisions are having to be made quickly and are in danger of being fueled by panic (that's where social media can be really unhelpful)
4. We're increasing online engagement, as safeguarding practices online are harder to monitor and in general thought of less than face-to-face contact
So with that in mind here are my top tips: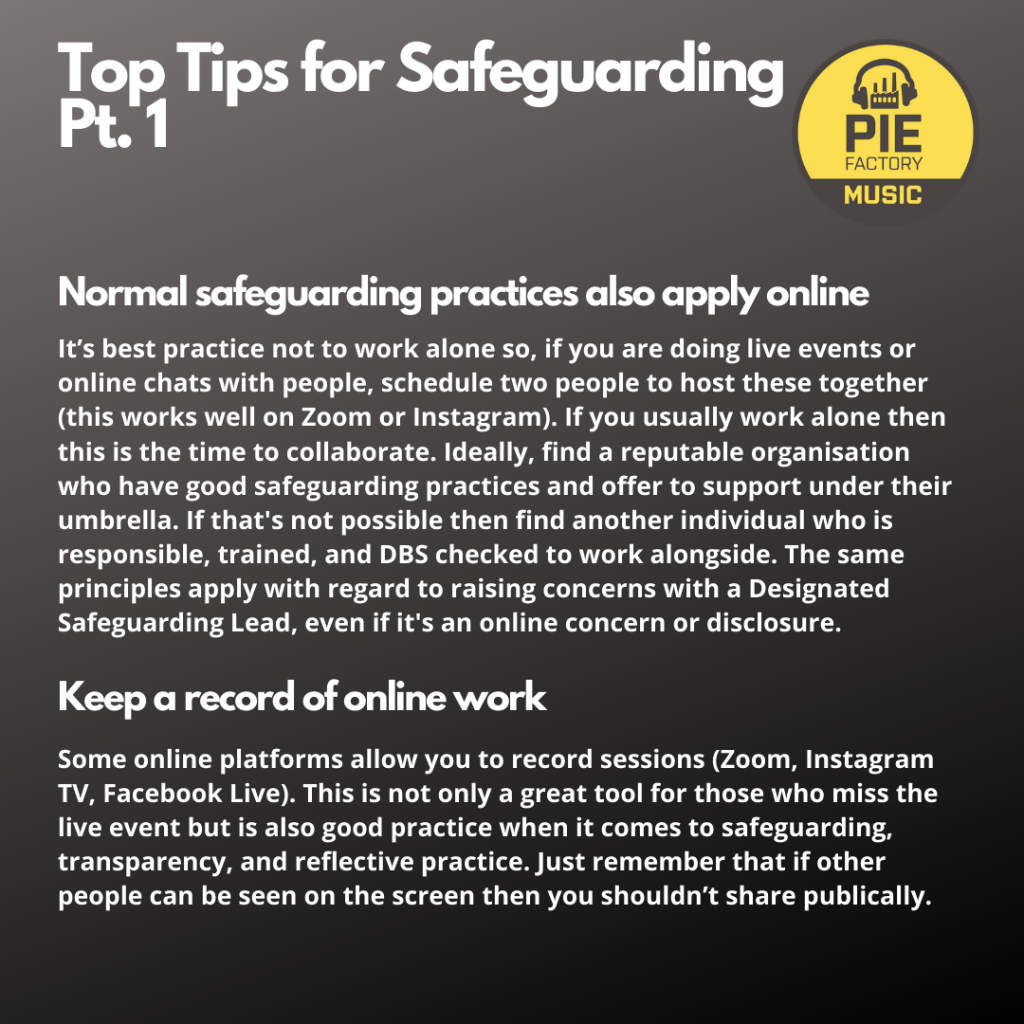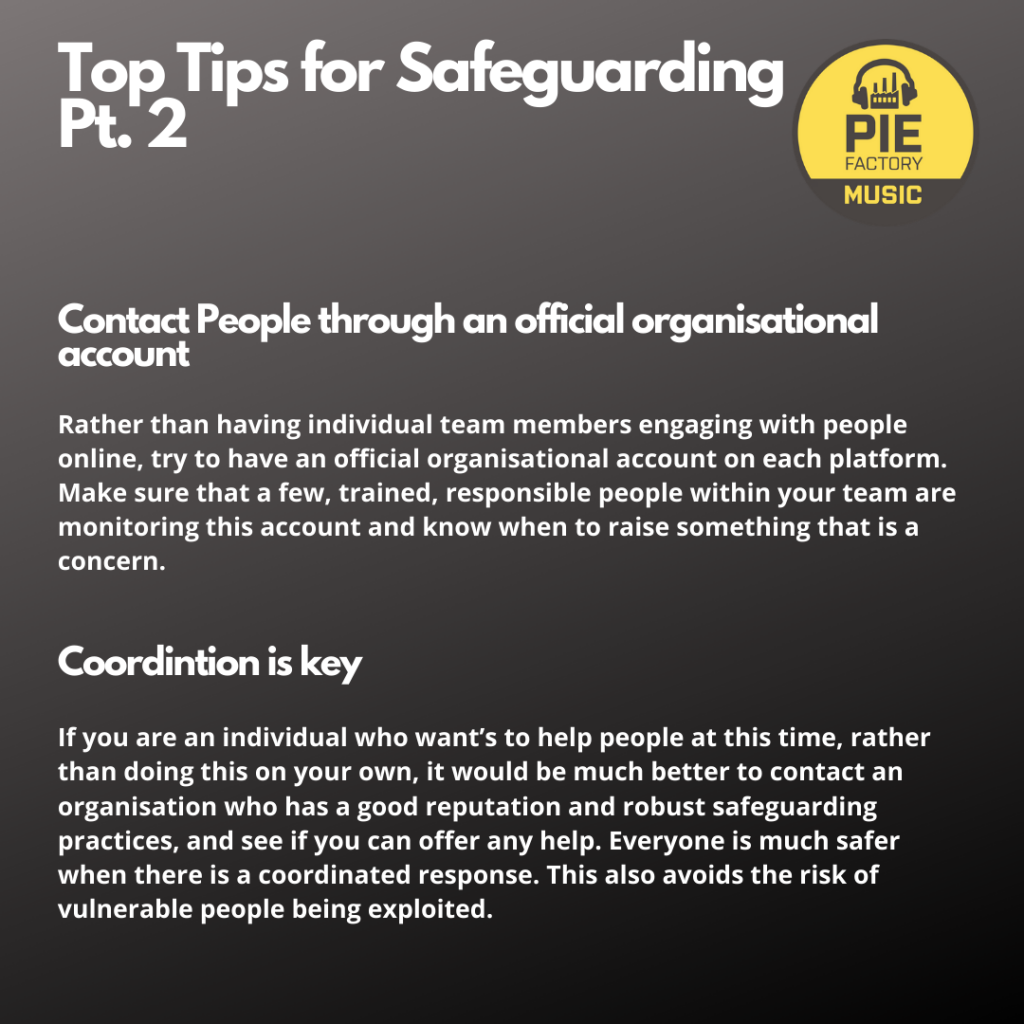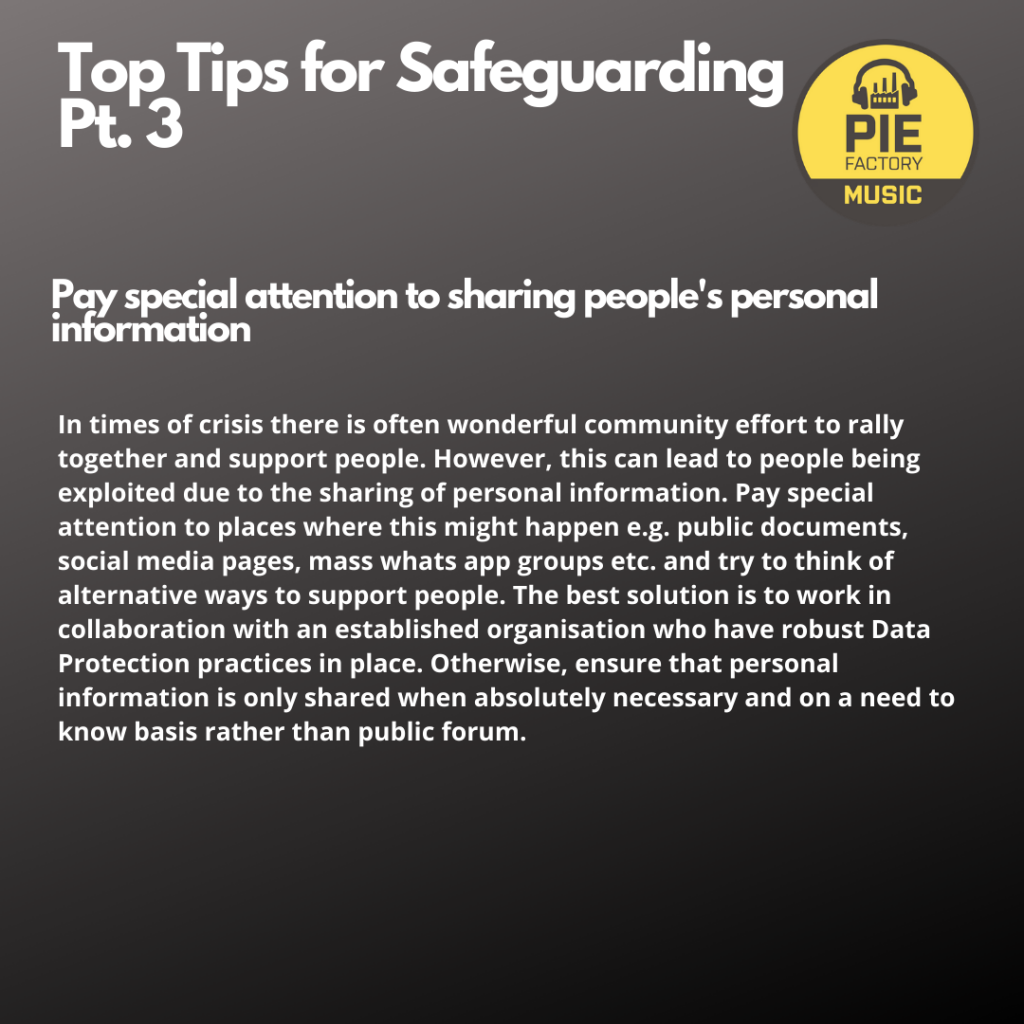 These Safeguarding tips are my initial response to the nature of community work that is emerging but be sure to look into this in more detail as this is a drop in the ocean with regard to Safeguarding practise. This is a good place to start: NCVO
I really hope that this is helpful – let us know if it is! Also, if you have other ideas to share or just want to chat get in touch info@piefactorymusic.com

We're in this together and we mean it.
Love everyone at Pie Factory Music x
(Author: Steph Dickinson)