POW! Thanet 2018: Female Young Musicians' Drop In
Posted: 13th February 2018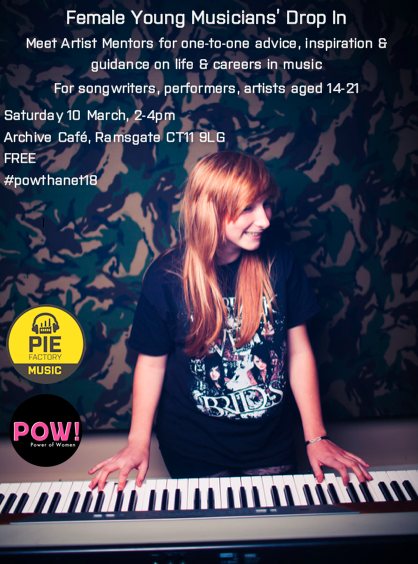 Are you a female between the ages of 14-21 interested in music?
Want to find out more about making a career out of music?
Needing a confidence boost for your live performance?
If you answered YES to any of these questions, come to Pie Factory Music's Female Young Musicians' Drop In to meet Artist Mentors for one-to-one advice, guidance and inspiration about life as a music professional, and network with like-minded young performers.
Bring a song you'd like some feedback on, a question about career pathways, or just come to meet some amazing people!
When: Saturday 10 March, 2-4pm
Where: Archive Café, Ramsgate CT11 9LG
How much: FREE
This event is part of POW! Thanet 2018 – a festival of arts and culture celebrating and exploring issues around feminism, women and girls. View more POW! Thanet events here >